Gutters

Gutters
Gutters
Gutters are essential for any structure with a sloped roof. When water drains off of a roof, it will need to be collected and diverted away from the structure.

5th Generation provides the highest quality gutters in the industry with the use of the latest in seamless gutter machinery.

Through the use of k-style gutters, it is possible to have gutters that are not only functional, but aesthetically pleasing as well. This is a drastic upgrade over the competition and is what 5th Generation is able to provide to every customer.
Seamless Advantages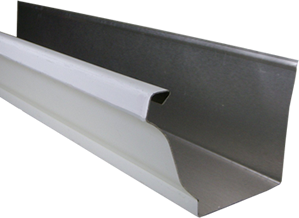 Seamless gutters have many advantages over their counterparts. In fact, many homeowners have found seamless gutters require far less maintenance than their counterparts. These k-style gutters are formed with the use of vinyl, aluminum or copper so that they can accommodate any climateand aesthetics of a building. However, the greatest advantages include:
Aesthetics
: Seamless gutters are created with one piece of tubing. This eliminates unsightly bolts and seams.
Fewer leaks
: Since there are no joints found on seamless gutters, the leaks often seen near the joints of a gutter are eliminated.
Maintenance
: The lack of joints means less damage and maintenance will need to be done by the homeowner.
5th Generation will instruct homeowners on the best gutter choices for their home. There are a variety of different materials and colors to choose from so your gutters will perfectly match the aesthetics of your home. Leaks are virtually eliminated and every seamless gutter is specifically crafted to match the structure in which it will be installed.
Gutter Basics
The use of gutters ensures that water never deteriorates a structure or causes unnecessary damage. Water that has been flowing in the same location will eventually start to erode the area which it has been running through. In the case of a home, this is normally around the foundation. When this happens, small cracks start to form in the foundation. If the water is allowed to persist, the foundation will become unstable.
Gutters will be setup so that all of the water runoff leads directly into a gutter. The gutters will be designed so that the water is routed away from the structure. This allows for proper draining and ensures that the structure never suffers damage related to the water runoff during a storm.
If gutters are installed improperly, damaged or not present, a structure may experience the following:
Foundation damage
Basement flooding
Interior Flooding
Exterior damage
Gutter Materials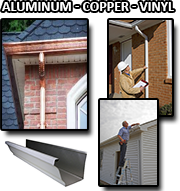 Gutters are available in several different types of materials. Usually, the type of material you use depends on your budget and environment.
Commonly used materials are: