genflex roofing
roofing challenges are never over our heads!
At GenFlex, we live to tackle and solve the toughest challenges in roofing. The result is a full line of proven, durable roofing systems and components that provide you with quality, ease of installation and complete warranty coverage. Its that simple. Listening and responding to the needs of our customers has kept GenFlex at the forefront of new roofing products and technologies for over 30 years. Thats why over a billion square feet of GenFlex EZ TPO and EPDM membranes have been installed across the country, protecting a wide range of properties, from commercial buildings and retail facilities to hospitals, schools and other institutions. And were just getting started
---
Introducing Seam2Seam EPDM SA
Get done and on to your next project faster. Seam2Seam is our quickest and easiest solution for EPDM installation.
WHY GENFLEX?
Easy to use, fast to install. GenFlex commercial roofing systems save you time, labor, and hassle.
Go Back
View Our Products
EPDM
Good for new construction or re-roofing jobs, GenFlex EPDM single-ply roofing membranes are some of the strongest EPDM roof membranes on the block. But that doesn't mean they're tough to transport or install. Learn what makes GenFlex EPDM rubber roofing products an exceptional solution for both your crew and clients.
TPO
GenFlex EZ TPO roofing systems provide heat-reflectivity and energy efficiency for high performance at a low cost. From dual-weld seam to Peel and Stick systems, GenFlex has a variety of TPO products you can rely on, paired with best-in-class warranties you can trust. Learn why GenFlex EZ TPO is an excellent system choice.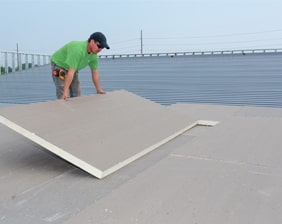 POLYISO
GenFlex polyiso insulation has options for almost any commercial roofing system, and our products are some of the most effective and affordable solutions available. Combine dependability with industry-respected impact resistance, energy savings, and fire resistance, and you've got GenFlex.
green looks good on you
Giving the Environment the Respect it Deserves
When it comes to protecting the environment and reducing energy consumption, were all in. Now more than ever, roofing projects require that architects, owners, builders and contractors work together to evaluate a project beyond the dimensions and parameters of the roof.
GenFlex EX TPO
High solar reflectivity and high infrared emissivity are critical to a Cool Roof system. GenFlex White EZ TPO systems exceed 79% reflectivity and have an initial thermal emmittance of 85% to ensure energy conservation and building comfort. It has a Solar Reflective Index of 98.
Peel and Stick
Our patented Peel and Stick system contributes to ENERGY STAR compliance and provides an environmentally friendly installation, free of asphalt and bonding adhesive fumes.
GenFlex Invisiweld
The patented GenFlex Invisiweld system induction welds TPO membrane to Polyiso plates. Installation is consistent, quick and easy, and results in significantly reduced materials, cost and labor. Good for your roof and the environment.
Seam2SeamEPDM SA
Lower labor costs and a wider installation window? That's what we like to hear. GenFlex Seam2Seam EPDM SA can be applied with a smaller crew, with fewer materials and in less time than traditional adhesives. It installs 4.6x faster* so you can cover more ground each day. Learn what makes Seam2Seam GenFlex's quickest and easiest option.